The students of Bhavan's B.P Vidya Mandir, met with the Zonal President Harish Dikondwar with a request to develop the large unused ground in their neighbourhood. The students brought to the attention of the officials, how the dirty and unleveled ground was being wasted and how people were using it as a place for dumping garbage and cattle grazing. They submitted their various suggestions to improve this place by converting it into a garden, park for children as well as a walking path for adults. The students also created and submitted innovative designs for a new type of bio toilet which can be installed in this park.
On the 5th of November, all the students came together and conducted a cleanliness drive. Nearly 250 students from 5 sections of the school's class 8 participated in the drive in which they cleaned the ground and the nearby roads. Due to the children activism, the authorities have cleared the streets of hawkers and cemented it. They have also begun leveling the ground. The students say that they will not stop fighting till this is transformed and will approach even the Mayor if they see any default.
A great initiative taken by the facilitator in Nagpur in the Vivekanand Nagar NMC School was to educate the children about the voting procedure in India. A school level election process was successfully carried out. The process included, waiting in line with ID cards, verifying names in the voters list and finally voting by putting it in the ballot box. The School's Education Chairman Mr. Gopal Bohare was also present during the event. This initiative taken at such a large level like never before by Bala Janaagaraha was greatly commended and also appeared in the Maharashtra Times.
The students of Bhavan's School selected a stretch of Mayo Chowk, near Ram Jhula [CA Road] for their project. They surveyed the area and met the Corporator Ms. Jaitunbi Asfak Patil to appraise her of the problems. They made a few sound suggestions to improve the condition of the road and sought her help in their effort.
They created awareness campaign to change the mindset of people and undertook a rally as part of this campaign. To the extent possible, they cleaned the area by themselves and removed vast amounts of garbage. As a result of their efforts, an open drain in the area has now been closed and a damaged footpath is being repaired. The children have brought in visible change to the area.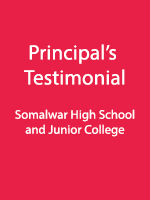 Bhavan's B P Vidya Mandir, Shrikrishnagar
Br Shesh Rao Wankhede Vidyaniketan – NMC
G H Raisoni Vidyaniketan (CBSE)
G H Raisoni Vidyaniketan (State Board)
Netaji Market Hindi High School, NMC, Sitabuldi, Nagpur
NMC Dr. Babasaheb Ambedkar High School, Untakhana, Nagpur
NMC Durganagar High School, Old Subedhar Nagpur
NMC Hansapuri Hindi High School
NMC Lalbahadur Shastri School, Hunuman Nagar, Nagpur
NMC Vivekanand Nagar, Hindi High School
NMC Walmikinagar Hindi Madhyanik Shala
Royal Gondwana Public School
Sarswati Tiwari Girls Hindi School
Somalwar High School and Junior College
St Micheal High School, Nagpur
St.John's High School
St.Joseph Convent Girls High School
St.Xavier's High School, Hingna Road
The Chanda Devi Saraf School